Just ten minutes ago (at the beginning of this writing), I rushed to get the
Spring 2014 Zombie Strike post
up on Nerf Mods & Reviews so that I could get ready to go out for a free Slurpee adventure. While getting the post up, I was excited at the thought that I'll be able to play with some of this stuff at San Diego Comic Con (which I do plan on covering, both here and NMR). I also started collecting thoughts on the series.
Zombie Strike, in short, seems really neat. I'm a fan of some of the aesthetics and some of the blasters coming out for it. The idea of the series is great and I know that it'll make a load of money, both from the younger crowd and the HVZ crowd. I'm also a fan of the illustrated box art, which looks cartoony, but not goofy.
Some blasters that I'm looking forward to are the Crossfire and the Sidestrike. While I'm liking the Crossfire just due to sheer coolness, the Sidestrike has my interest due to the holster it's coming packaged with. Not only is it compatible with its patron blaster, it's advertised as being compatible with the N-Strike Elite Firestrike. Reading this made me excited because, well, why not stop there? Nerf knows the fans want individual accessories. Why not try and design some sort of semi-universal holster? They could somehow make it adjustable by size to accommodate "sidearm" blasters, like the above Sidestrike and Firestrike, but perhaps also the N-Strike Elite Triad, Vortex Proton, and other blasters that size.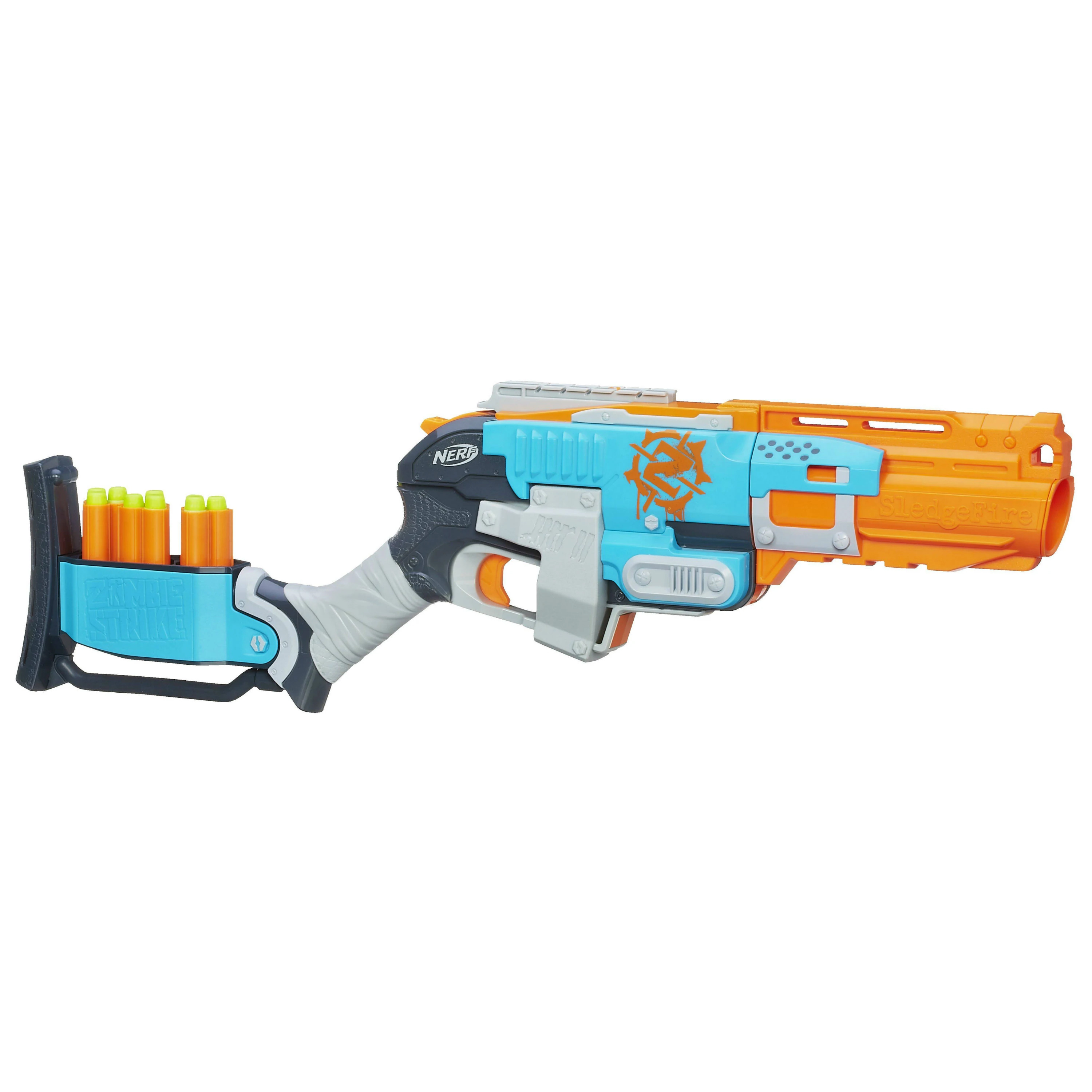 Sledgefire
(Fall 2013) (27.99 USD)
(Target exclusive)
Something I'm not too excited for is the Sledgefire. While it's cool to see that Nerf's finally making a shell-loaded blaster, like its competitors have been doing for a few years now, I'm not a fan. I don't like the idea of having to load your darts into small, easily misplaceable shells. I'm also not too sure how snug darts fit into shells, or how snug shells fit into its integrated stock for storage. It'd really suck to be running from an enemy to just have your ammo go flying everywhere, leaving you completely open to an attack. I'm just hoping that Nerf won't continue to make shell-based blasters, especially with the N-Strike Elite series.
Zombie Strike also has a foam sword in its Spring 2013 lineup: the Zombie Strike Blade. With a 30 inch length, it's a little on the shorter side... to compare, the Marauder Longsword is 40.5 inches and the Thunder/Shadow Fury Short Swords are 24 inches. While I'm glad it's longer than the minuscule Thunder/Shadow Furies, I wish it was just a little longer. Having it at 40.5 inches like the Marauder is a bit of a stretch though, since that thing is bulky and wouldn't do as well as a smaller, more agile blade.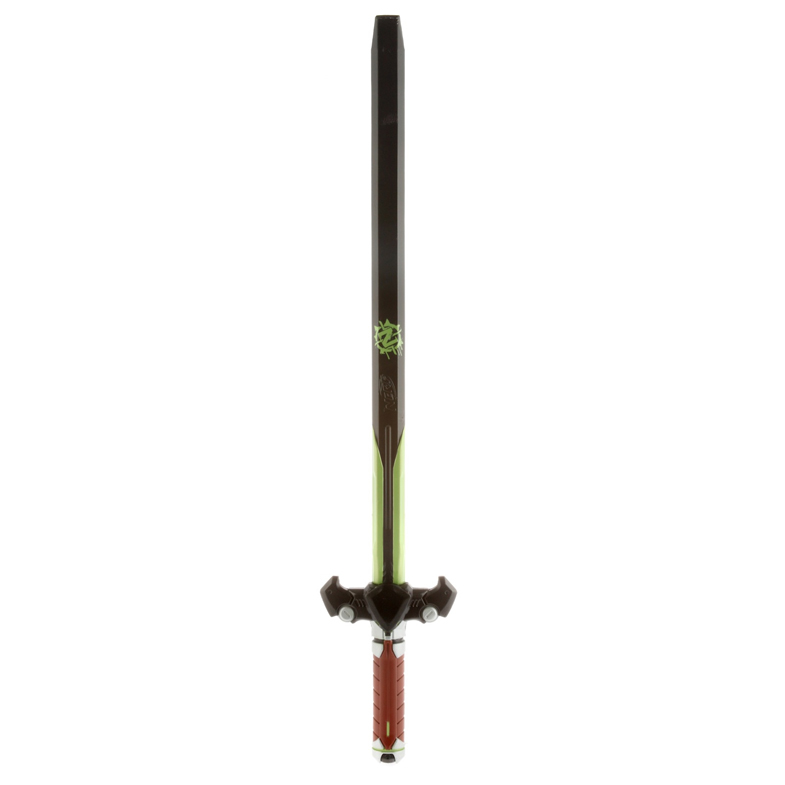 Zombie Strike Blade
(Spring 2014) (12.99 USD)
Of course, this begs the question... what does Nerf have in mind with the N-Force series? They stopped producing foam weapons in 2011 with the release if the Vantage Sword and the Vendetta Double Sword. Releasing a foam sword under the new Zombie Strike series shows that there is some interest in swords and other foam melee weapons. Personally I hope N-Force ends up completely discontinuing in favor of splitting the series and releasing swords and whatnot under the regular Nerf blaster series. N-Strike Elite could see more military-style weapons (such as a combat knife, a general's sword, a tactical rail bayonet of sorts, etc.); Zombie Strike could release more survival-style weapons (such as an axe, a crowbar perhaps, etc.); Vortex could release disc-style and/or ranged weapons. Of course, this is all just wishful thinking.
My opinions may change on the series as time goes by (as did my opinion on Rebelle, which I plan on making a post for sooner or later). With Comic Con next week, I'll have my chance to get my hands on the Sledgefire, so I may end up having a better opinion on the blaster after playing with it!